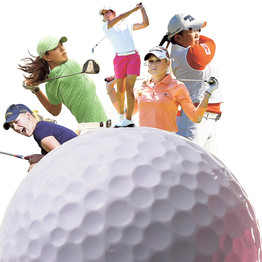 For the last 60 years the LPGA has had its ups and downs. Lately more downs. Much of the downs have been through the change in guard. They have had three different commissioners within the last 7 months alone. That kind of change tells you there could be one of four things wrong! Either (1) there is something wrong in the genre of this woman's sport, (2) fundamentals within the system of the sport are broken, (3) attitudes and styles of the leadership whom control and guide the LPGA or (4) there is something wrong with the organization as a whole. I believe that all four have taken place at different points in the LPGA history yet the one that is most evident is the leadership changes.
Being new to the game of golf as a whole, but being an avid enthusiast in the short time I have played, I have been able to learn so much about it. A recent article within Golf Digest discusses the change in leadership for the LPGA in their choice for Mike Whan as the new commissioner. When I read the article, it reinstated the fact that leadership is so important in how an organization is viewed by consumers, sponsors and lovers of the game.
The article mentioned some key differences in the style of Mike Whan as the new leader versus his predecessor.
Carolyn Bivens (predecessor):
Ousted as commissioner in a coup July 2009,
Created strained relations with just about all the game's stakeholders,
My-way-or-the-highway approach
She and LPGA headquarters damaged relations between tour stops, sponsors, and influential lovers of the game.
Mike Whan
He describes his management style as the three Ls — listen, learn, then lead
Reached out to past commissioners and players to get their ideas and become stakeholders.
Believes that LPGA is not a big business that can be run from on high but rather a mom-and-pop grocery store where his main job is service — making the sponsors and event owners feel appreciated.
See a pattern?
From the article and what I have seen around the LPGA tour, the attitude and environment has changed a lot since Mike Whan took the helm. I have believed that it is not only important that a leader should have the experience, expertise and understanding of an industry… but more important is in the way they interact and listen to the constituents they represent and sell to.
So what is your experience with leadership? Is it in the style, the approach, or is it more in the organization as a whole?
You may also like the following: