I am very happy to present this months series of the HR Carnival. Take a look around after reading the other post in this carnival and tell me what you think of ReThinkHR.org. Also if you like it, feel free to click that RSS subscribe button on the right! Oh and follow me on twitter. Enough about this blog.
For this HR Carnival I didn't give a theme to the submitters of the carnival, only because I couldn't think of one at the time. However, after reading all the post I thought the best start would be to give a brief history of a "Carnival". Not the HR Carnival but the Carnival of our youth. The carnies, the crap cotton candy and cheap dirty rides that would stop in our neighborhoods once a year. So here it goes:
What is a carnival?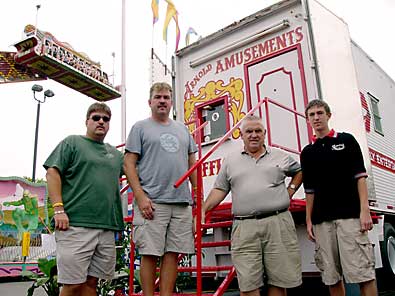 The inception of the Carnival was meant to be an annual celebration of life found in many countries of the world.  Where did the word "carnival" come from? Well, Hundred's and hundreds of years ago, the followers of the Catholic religion in Italy started the tradition of holding a wild costume festival right before the first day of Lent. Because Catholics are not supposed to eat meat during Lent, they called their festival, carnevale — which means "to put away the meat." (butthead laughs…)
As time passed, carnivals in Italy became quite famous; and in fact the practice spread to France, Spain, and all the Catholic countries in Europe. Then as the French, Spanish, and Portuguese began to take control of the Americas and other parts of the world, they brought with them their tradition of celebrating carnival.
So let's celebrate some crazy carnie love, because like a carnival we all fit in some category and are definately some characters in HR!
Carnie HR
Jennifer McClure
of Unbridled Talent gives a great outline of resources for us to follow. I am often looking for other places to find good information, encourage ideas and foster collaboration. Here are Jennifer's
recommended blogs for HR & Recruiting Pros
. Regardless, don't just stick to your area… feel free to venture out to the unknown like Marketing, PR and basket-weaving! (of course she would have put ReThinkHR.org on the list but she knew I was hosting the carnival… didn't you Jennifer! Jennifer… Jennifer? Hello? Oh well, you can dream lol).
Mike Haberman
over at Omega HR Solutions talks about how our 
successes in HR can actually be a roadblock
. We often can be so successful that the expectations of continued success can hurt us. I am feeling this a little now!
Wally Bock

from the Three Star Leadership blog talks about how even though you

may have to use your company's performance evaluation system it doesn't mean you can't approach performance the right way!
I get tired of meetings after meetings. Sometimes you want to get down to business but if you are unfamilar with the people or the procedures and you are not running the meeting it can be tough! Here, Dan McCarthy from Great Leadership gives 7 Tips for Department Meeting Rookies.
Carnie Technology
Going a little deeper into what Kelly wrote, Mike Kohn from the HR Intern tells you his perspective around the 1-2-3 punch of social media and relationship building in recruiting from the job seeker's side and the employer side.
Kelly Dingee by way of Fist Full of Talent tells you to make your profile %100. Because if she wants to hire you, she has to be able to contact you!! So if you have a profile on LinkedIN, help a sourcer help me help you!
Ben Eubanks from UpStartHR tells us the facts about how 70% of employers perform social search on candidates. We may not talk about it and there may not be hard stats, but most of you are doing it in some way-shapr-or-form. So accept and admit it!
Kathy O'Reilly of the Monster Thinking blog talks about why HR pros may be hesitant to embrace social media tools and a wonderful use of the term "angina" with  "HR and Recruiting Pros: Sitting on the Social Media Sidelines?"
Carnie Talent Management
Mark Stelzner
of Inflexion Advisors is reminiscing. How many of us can have so many fond memories of a place where we worked? Could we ever consider any of our workplaces as 
the best company we ever worked for
? Maybe maybe not but a nice quote
"We won because we decided winning was more fun than losing".
I agree!
There is a wealth of advice that you can look up on the internet around job offers. The following advice comes from 
Suzanne Lucas
, the Evil HR Lady [well she is not that evil, just direct and to the point. Most people who can't handle it - deal with it ;)] on 
what to do when you are comparing two job offers
. It is rare to get two offers but, just in case, be ready!
Laura Schroeder
(that's my sister's name!!!) from the Compensation Cafe talks about being able to get a job regardless of how well you can act or talk about Tron or LightSabers

Because sometimes we have 
no perfect script to get a job
!
B.P.Rao
comes with an interesting perspective about how many 
designations have changed
! I have to agree that the responsibilities that titles reflect and the expectation we have in gaining a title are often different then they have been traditionally.
Carnie Leadership
Amy Wilson
from the ever so talented TalentedApps team writes about how HR leaders and Unit leaders within the Business actually sit down together and define 
the differences between Talent Reviews and Succession Planning
?
Notice how, in this post, not once was a "seat" or a "table" mentioned!
Just people meeting together. Take that all too played out "seat at the table" anology!
Mark Vickers
from i4cp writes about how leadership, true leadership is kind of fading. It's losing the luster, thus we have gone through a 
Long Era of Lackluster Leadership
.
Carnie Attitude
Kevin W. Grossman 

from the Glowan Consulting Group talks about how our perception of social tools are going to change from today's executives to the next class of pros taking over the guard in the future. If you don't know now, realize that

HR and C-level jobs of the future are in the top 20 of Social Jobs. We better get a head start on being social!
Our friend 
Bill Boorman
talks about the 
Social Job search
and how with some annoyances we hold, we should just get over them in the social realm of search!
I am sure these days all of us in Human Resources can presume
what makes employees negative?
From the fear of losing a job to increased responsibilities and less people to help among them. Here
Susan Heathfield
is asking for your opinion in a poll. Feel free to vote.
Many of us attend seminars and conferences to earn certifications, get out of the office, or learn something new. But do we ever expect
a conference to change our life
?
Paul Smith
from Welcome To The Occupation answers that question for himself!
Carnie Wellness
Comments
comments
Powered by Facebook Comments