I have been busy like anyone else. I have been up to a lot and also been asked to be a part of a lot of great projects. While I love being involved with more, I have to actually step back a little.  However, this does not stop me from getting involved with some great people and projects from time to time.

I was honored to be asked by William Tincup and Bryan Wempen once again to be a gust on the great DrivethruHR show. We discussed Leadership, Training and the fact that all companies need renegades and mavericks!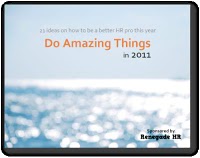 When Chris Ferdinandi at RenegadeHR did the original "Do Amazing Things" in 2010 I thought it was a great read and filled with agreeable and disagreeable content that helped people challenge their mindsets!
So when he asked me to write an article for the 2011 version of the e-book I was especially honored to contribute to "Do Amazing Things 2011." The E book is packed full of insightful writers from the field of Human Resources. Download your free copy click here.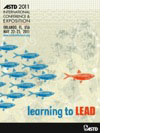 I will be a press person for the upcoming ASTD International Conference in May. It will be especially cool because I will be one of the few bloggers as press! Shout out to my friend Sharlyn Lauby! If you will be there then please feel free to connect and say hello. Maybe we can join in on some great sessions or even be hecklers in the bad ones!
I also plan to attend HREvolution and SHRM International as long as my working travel schedule will allow. All TBA!
I participated in Ignite Cincinnati #3 last year and I was lucky enough to be voted in on #4 as well. The following is my "always could get better at a 5 minute nerve racking" talk. Will do another as long it is not on a night I am training!
There you go. So what have you been up to?
You may also like the following: