Don't be ignorant, be intelligent.
We know that every workplace has politics. With November 2nd getting so close, the politics are probably starting to show in conversations, and water cooler talks. Regardless of peoples personal politics, I think their is a fine line between opinion and fact.  If there is one thing that is worse then someone who does not vote, it is someone who votes with no knowledge of the legislation, politics or where a politician stands.
If you want government and business to be better, then you need to be better informed around the politics that affect legislation and, ultimnately, how those decisions ultimatelty affect your work!Here are some resources/gold to help you decide and maybe become better informed about this Tuesday.
November 2nd: Election Day Resources
Who Should I Vote For?
There is a great resource that I came across called Vote Easy. Run by VoteSmart.org, it is an easy web-based application that you can use to find out more about the people within your district running for office. Simply key in your zip code and it will show politicians within your area. You can also look by state. Once you see them it will send walk you through some questions around key beliefs and issues to show the politicians most closely fit your views around the answers to those questions.
Who is running?
You can also use a site called OpenCongress.org/ to find who your current senators and representatives through the use of their  zipcode look-up tool. It will walk show their voting record, etc.
Show me the money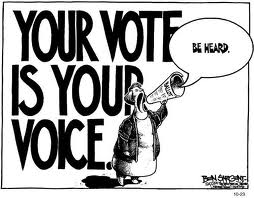 I want to see your checkered past!
Real Time Results
Do you know of any other tools or information that will make it easier for people to vote? Note: People think that these elections have a lot of negativity in them… try the 18oo's! Be "prepared to see your dwellings in flames" - Now that was cruel!
httpv://www.youtube.com/watch?v=Y_zTN4BXvYI
Comments
comments
Powered by Facebook Comments