Today is the first real day of snow, at least in how it will affect work for the regional area. There is currently 4 to 6 inches of snow projected with more on the way. Roads are affected with schools and daycare locations beginning to report closings and delays.
Levels of Snow
Here, like many areas, there are 4 levels of snow emergency:
LEVEL 0: There is no snow advisory in effect.
LEVEL 1: Roadways are hazardous. Motorists are urged to drive very cautiously.
LEVEL 2: Roadways are hazardous with blowing and drifting snow. Roads can be very icy. Only those who feel it is necessary to drive should be out on the roadways. People should contact their employer to see If they should report to work. Obviously, if you are driving, use extreme caution.
LEVEL 3: All roadways are closed to non-emergency personnel. No one should be driving during this condition unless it is absolutely necessary or a personal emergency exists. All employees should contact their employer to see if they should report for work. Anyone traveling on the roads may subject themselves to arrest.
Who is affected?
Typically, if you are an exempt employee or one that has an ability to work from home/remotely, as long as the power or internet is not down and your boss does not mind, you don't have as much of a problem. However, if you are an employee that is essential for the production of business, a non-exempt employee that is required to call in/arrive, your manager does mind and you may have to be at work, the following issues can affect you:
School/Daycare Closings and Delays
Rural areas and neighborhoods
Township versus Municipality Versus City and district maintanence crews
Bus services
Automobile Maintanence (or lack of in these cases)
Jerk Boss
Nice Boss that needs you!
etc.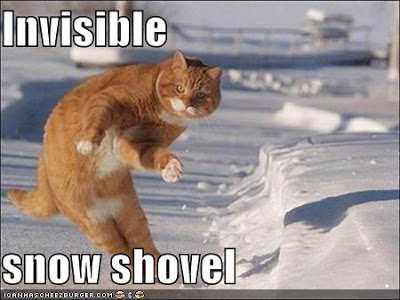 What is your snow policy
While many people have a hard time handling this issue when the weather first becomes a problem, it is rather simple as this same weather becomes routine. If you have a PTO and Absence policy, many of your issues can be solved with that. If you need something to tide you over until you write your own, the following could be a partial example:
Although everyone is expected to be at work on a regular basis, the Company does recognize that, due to either an incidental illness or personal reasons, you may on occasion be absent from work. The Company will compensate both salaried non-exempt & exempt associates, including Sales Representatives, for time not worked, as indicated in this Corporate Personnel Practice.

A. DEFINITION    

Paid absence is time off the job, with management approval, with full or partial pay as indicated in this policy. Paid absence is not considered a leave of absence, although in specified instances a leave of absence may be processed for administrative purposes.

B. ELIGIBILITY

All regular, full-time non-exempt salaried and exempt salaried associates, including Sales Representatives, are eligible.

C. MAKE UP TIME

The requirement for make-up time will be determined by your Manager or Supervisor on a case by case basis.                                  

D. FACILITY CLOSING DUE TO WEATHER

If the Company remains open for business as usual, then you will be expected to be at work as soon as conditions warrant.
Communication & Good Management is key
You don't have to rewrite a good policy it if it is communicated regularly. So communicate it regularly and appropriately at the beginning of each quarter, around seasonal changes, etc. This also depends on good managers that regularly communicate with their employees and have managable guidlelines that all their direct reports understand… but more about that in another post.
So I'm curious… as a company and those in human resources, how do you handle Snow days at work?
Comments
comments
Powered by Facebook Comments