I admit, I never thought nor did I care much about Golf. Even when all the hype started around Phil Mickelson and Tiger's first pair-up (I may be wrong on the when) I didn't know much about the game. Golf channel, schmolf channel.
I heard about it but of course I had never played golf in my life. I did start to gain interest in the game as I started to get more into corporate and leadership roles. Golf was the game to play if you wanted to network within business. While some may feel this is true, I finally took the first step in my addiction in August of 2008.
There is a golf course behind where I live and because of a good deal I said "what the heck, might as well try." So I went to the range with a pro to get sized and he took out a 6 iron (typical club to get a feel and start with the game). I took my first swing and an immediate rush came through me, "Woooo, this feels cool." Since then I have been hooked. Mind you, I am not consistent, but I now play with a score in the 90's, which I have heard is not bad. I have learned a lot from the game that can be applied to the profession of Human Resources.
Practice: Before I even started playing on a course I spent 6 weeks on the golf range. An area where all you do is hit range balls into a somewhat open field. I have been told this is the best way to start. It helps you begin to get a feel for how far you can hit each club, the basics of your swing and just get comfortable before you get a chance to hate the game. I believe that any profession takes practice. The more an HR pro can take the time within and outside of their regular environment, focus on the basics of the people and processes of their job; the better they will be able to address real problems and projects that need attention.
Take time to get familiar with the landscape: Some of the best golf courses have great landscapes and scenery. Many times the beauty is a illusion to the challenges of each hole. This diversity within each course is never the same from hole to hole. There maybe some similarities but no hole is the same. This is why you first need to assess the landscape and begin to think about what information you have to get closer to par.
In HR, we run into compliance, employee and business issues all the time. If we do not first assess the situation and all of its aspects, we cripple the effectiveness that we could have. HR.com has plenty of resources for assessments. If you understand and assess the situation as it relates to the correct context, you can take a better approach when making a decision and/or recommendation.
Know your strengths/weaknesses: Another thing I learned on the range and when I finally got out to the course was where I was good and bad. I began to see what I needed work on and where I was OK. I knew from the beginning that I had a good drive (which still could use work), my short game from the fairway was horrible and my putting was OK. When I was able to identify my strengths and weaknesses I was better able to fix areas in my game as well as identify where I needed more work.
Not everyone is good at benefits. Some people are better at training than reviews. The key is to know your strengths and match them to the aspects of the work that you do. The more HR can identify the strengths and areas of improvement in their own productivity, relationships with customers and colleagues, breakdowns in communication, etc. the more we can become more effective.
Patience: I am a pretty patient person. The best golf courses offer a wide open area with beautiful scenery is just one of the perks for being out on the course. The environment helps you think about what your next move will be as well as clear your mind from any other distractions that I may face. It doesn't matter what happens with my family, job situation, people or circumstances; golf helps to clear my mind and focus on one thing at a time. I am sometimes able to come up with new ideas that I otherwise would not have had if I was not on the course. I also take time for me which is one of the most important things you can do. Regardless of the activity, take time out and do what you enjoy so you can be a joy while doing what you have to do.
Which Club (Tool): At the start, I had no idea the point of 14 different clubs were. All I knew was that I needed to hit the ball as far as I could regardless of what club I used. As I have gained more knowledge and practice; I have realized what each clubs purpose and distance is. The clubs are tools that can help you get closer to the hole. For every player, the distance and accuracy is different. Some may hit a 9 iron 150 yards, while another person may only hit 110. The important thing that I learned as I played more was which club to use when.
In HR there are many tools: from LMS to HRIS, SAP and Databases. We have employee reviews, 360's, vendors for benefits and legal compliance. Even the programs we create for performance management. All of these items are tools to help us do our job and ultimately become a better function and partner to the business. Know what tools you have available and what the purpose of those tools are before you just start hitting!
Strategy: When you are on the course, there are so many things you have to address. The course lie, which club to use, the wind, stance, grip, ball flight, etc., etc. (besides being a HR dork, I am also a golf dork – I know – you can clown me later). With all these factors you have to think about the step you take well before you putt. You have to set up your tee shot and your approach. You also need a strategic plan, which determines your approach to the hole at any point in time.
HR also needs to have a strategic plan, which not every person is effective at beginning. This is a "thinking plan" that goes over the next year or more and how HR will get to where it wants to go as well as what metrics will measure its success. For golf the metric is simple, make par or less. For HR there are many factors to your plan and how that plan ties to the entire organization, product or program.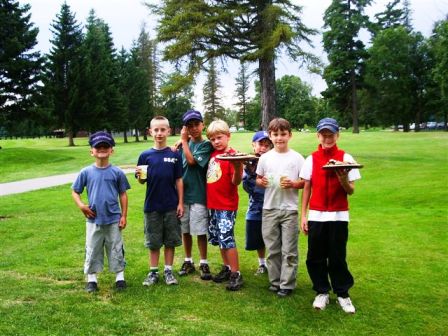 Colleagues: When I started to play golf, I barely knew of anyone that played. As soon as I started and people found out, I came to realize how many people were connected through the game. It was like I had bought a new Honda CRV and now all of a sudden I noticed how many CRV's were on the road. A commonality began to form. Before I knew it, people I would have never met or come into contact with, I was now able join in for a game. There are many people that I network with as a result. Side note: like seeing someone waiting for an interview in the lobby, you can get to know a lot about a person's character by watching how they approach the game of golf.
Understand that you will never be the BEST, but you can always get better: I would love to be like the pros and have the greatest drive, approach, short and putting game. The reality is that I could probably never give the commitment or energy to become that great. Even the best players in the world will not be the best for long. There will always be someone that can do better. Get over it. This is life. Do the best you can and approach every aspect of your job the best you can. It may or may not always be what is desired but regardless, no one can be perfect, but with the WILL, they can get better!
I have learned so much and hope to learn more from the game. I just hope, like in any game of life, that I get better with time, energy, knowledge and practice.
Comments
comments
Powered by Facebook Comments