I'm on vacation. So you will enjoy some guest posts! Today's guest post comes from Cindy Jordan. She runs a recruiting consulting company peoplelogixconsulting.com, which assists small to medium sized businesses with the recruiting process. In this post, she discusses approaches to manage your relationship with your superior. You can follow Cindy on Twitter @cijordan.
The Story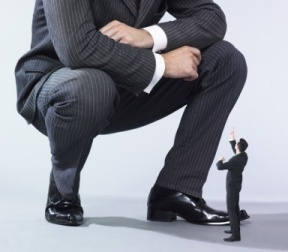 I was speaking to a friend the other day about being effective in the workplace and she threw out the term "managing up." I have heard so many thoughts lately on the term managing up and it's a term that is so often misconstrued. Some people feel it means that somehow there is a role reversal and you actually get the opportunity to manage your boss. That somehow there is a magic wand you wave. That you and your boss magically trade roles for the day. Although I'm sure many people love to fantasize about that scenario, that isn't at all the true nature of the term "managing up".
What does 'Managing up' mean?
Managing up really involves the relationship you have with your boss. The easiest illustration of managing up that I can convey is a bull horn vs. a telephone. The bullhorn is the traditional form of boss/employee relationship, all the communication comes from the boss to the employee. Managing up is more like the telephone; the communication is free flowing back and forth between employee and boss.

The keys to managing up are threefold:
keep your boss in the loop,
go above and beyond, and lastly
own your development.
Keeping your boss informed on what's happening doesn't mean you need to give them an hourly log of what you are doing. Rather, you should make sure you let them know about any challenges you faced and what you did to overcome them. It is important that you make them aware of your successes. Go ahead, pat your own back, toot your own horn. When setting goals for yourself, make sure you are setting stretch goals that are line with what your boss feels is important. Nothing impresses the boss more than taking on more of a challenge. Finally, if there are skills that you need in order to succeed don't wait for your boss to train you. Take ownership of your development, create a plan and map how you are going to obtain these skills.
By effectively managing up you will make yourself a more valuable and promotable employee. And who knows, you may end up managing your boss after all.
Benjamin McCall is an HR practitioner with specializations in Leadership, Learning and Development, Business Strategy, OD, and HR. His passion for aligning the functions of HR with the strategies of business is evident in his thoughts around business management, people, leadership, and his love for family and golf! You can connect with him on twitter
@BenjaminMcCall

ReThinkHR.org (@BenjaminMcCall)
You may also like the following: