A few months back I sought to create an Ebook. I worked with a few good people to put it together (see below). With over 1,000+ downloads later (yeah it's completely bonkers), it looks like it was a pretty good idea. While I don't put weight on the number of downloads, I do put weight around the fact that many people would find it useful. This means you have been referring it to others, sending people to this site and having everyone look at that little link over to the right >>>>>!!

Well, it's still free, available and it is still a good idea! So if you would like to help others find out why… then click here to find out more about it and download: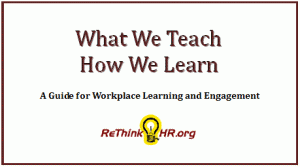 To stay informed about ReThinkHR.org please subscribe and follow the RSS feed.
Thanks Again
To my readers: If you value what you see, please share this work with others!