There is this thing called an Ebook. A lot of people do one. Some are free. Others have a nominal charge. Most are great resources. Well here is another one which happens to be free. Download it. It's better then Tater Tots and it cost less!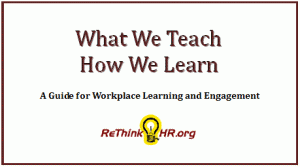 CLICK TO DOWNLOAD THIS FREE NOW
To find stay informed about ReThinkHR in the future Follow the RSS or sign up for the email list.
Just remember, before you can help others be better you have to make yourself better. Like that story about the splinter in an eye…
Find other resources:
Free eBook: Do Amazing Things in 2010 | Renegade HR
'The HR 101 E-Book' | Creative Chaos Consultant
Comments
comments
Powered by Facebook Comments